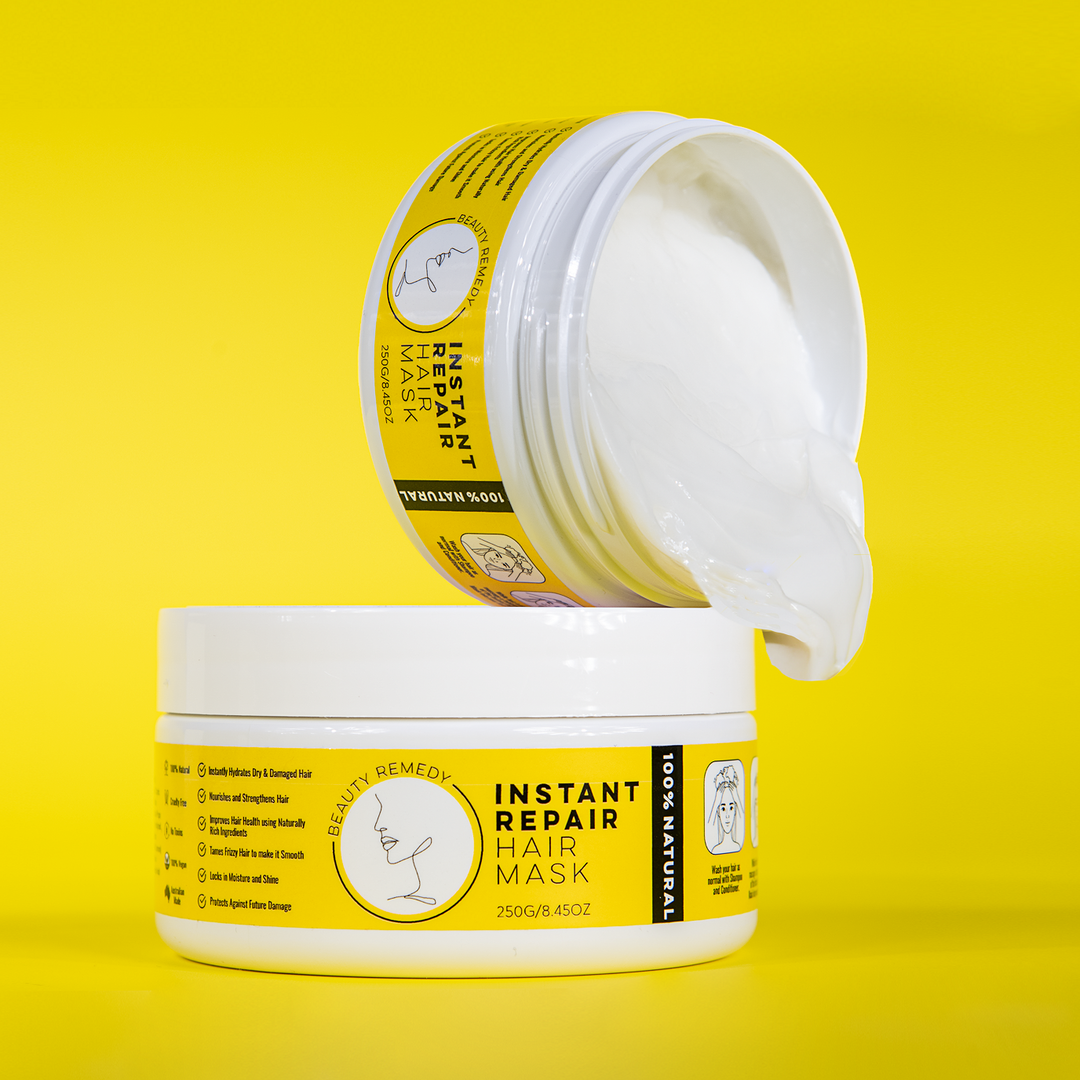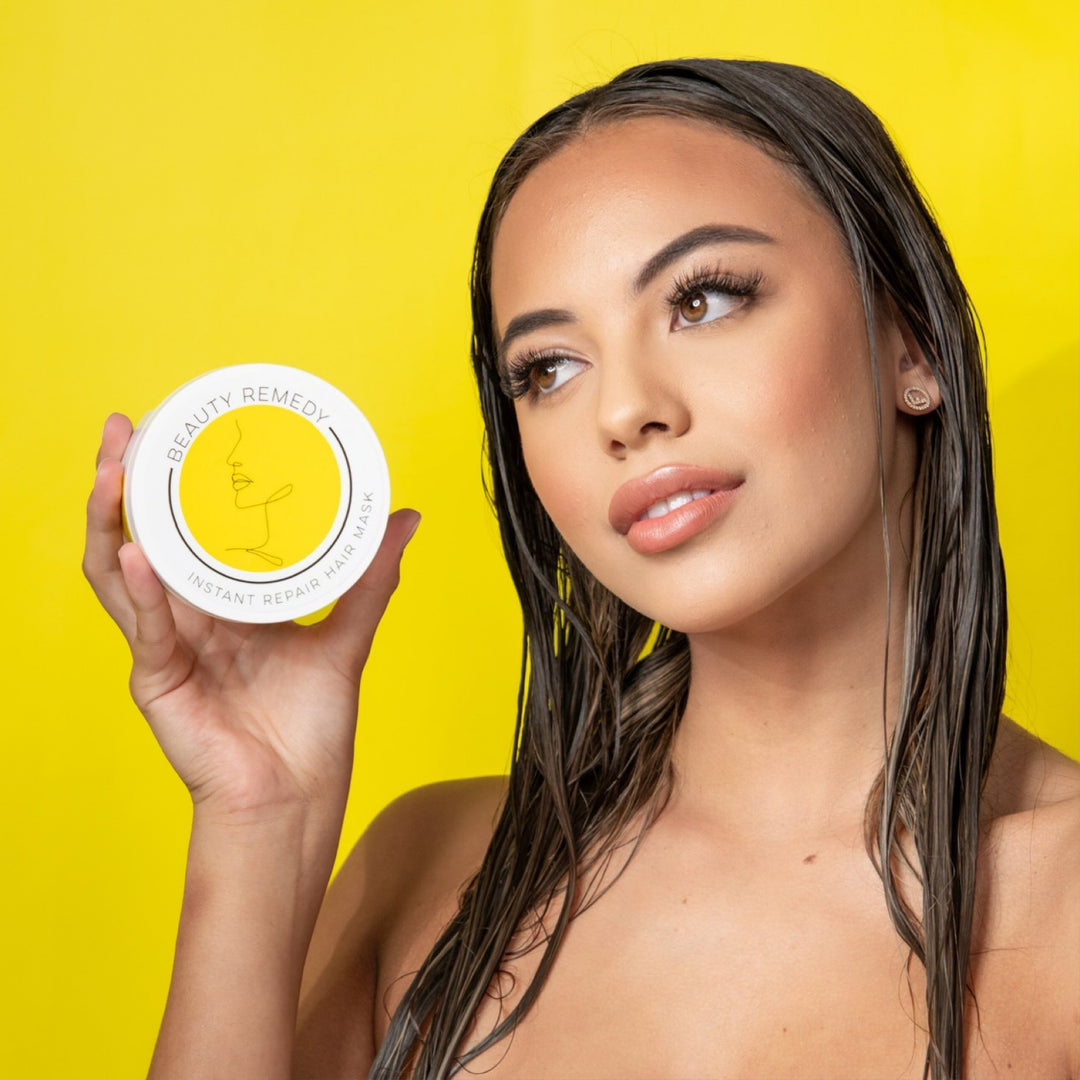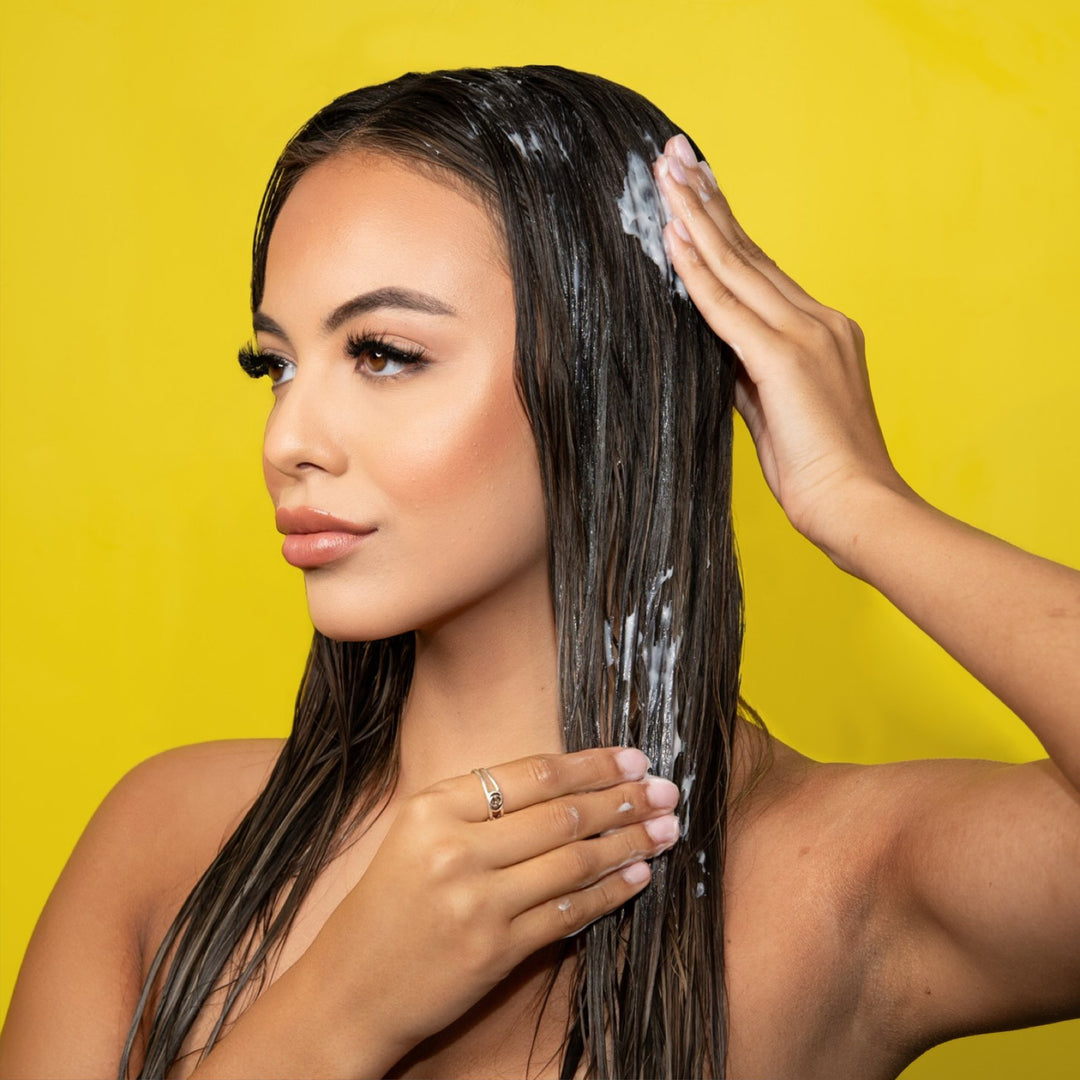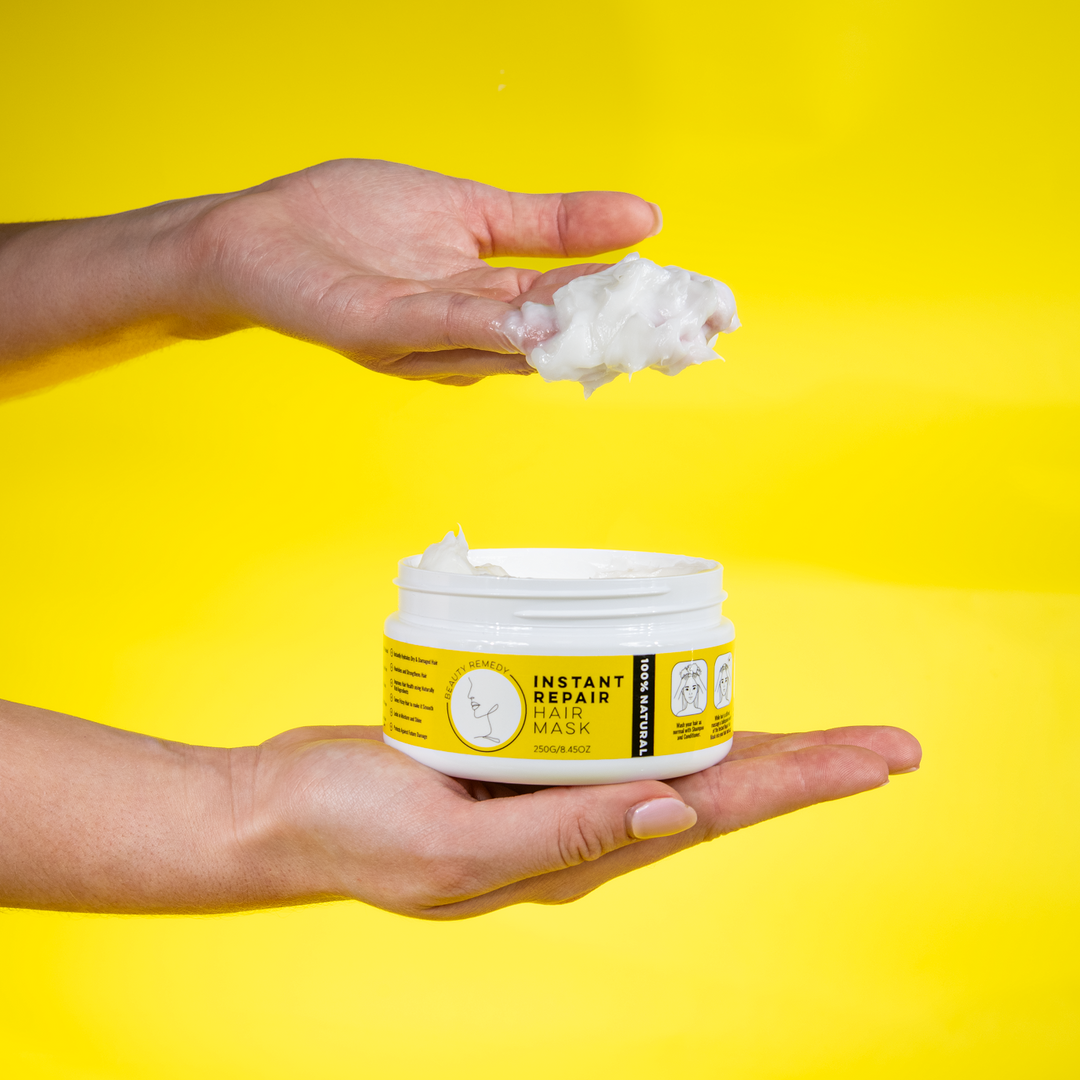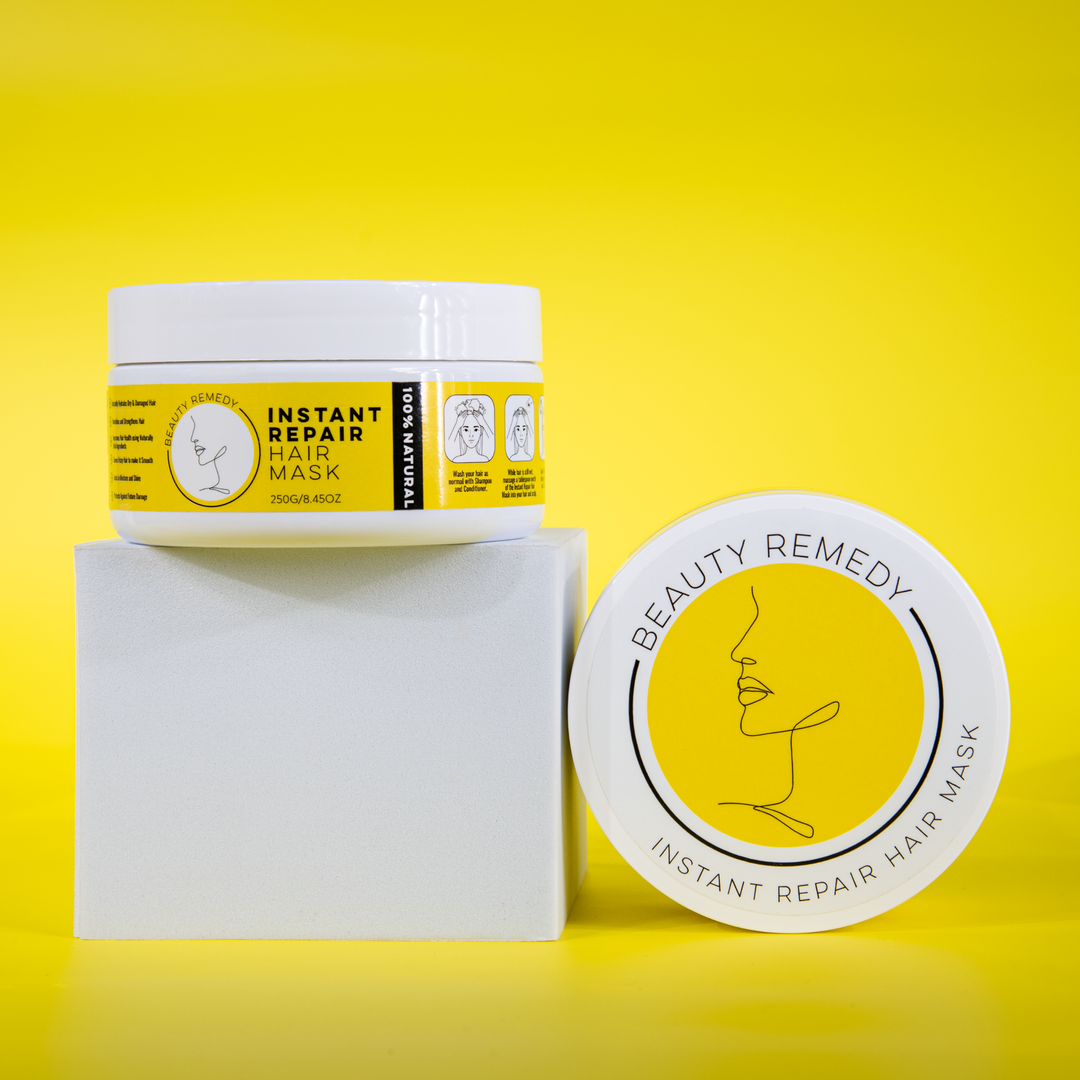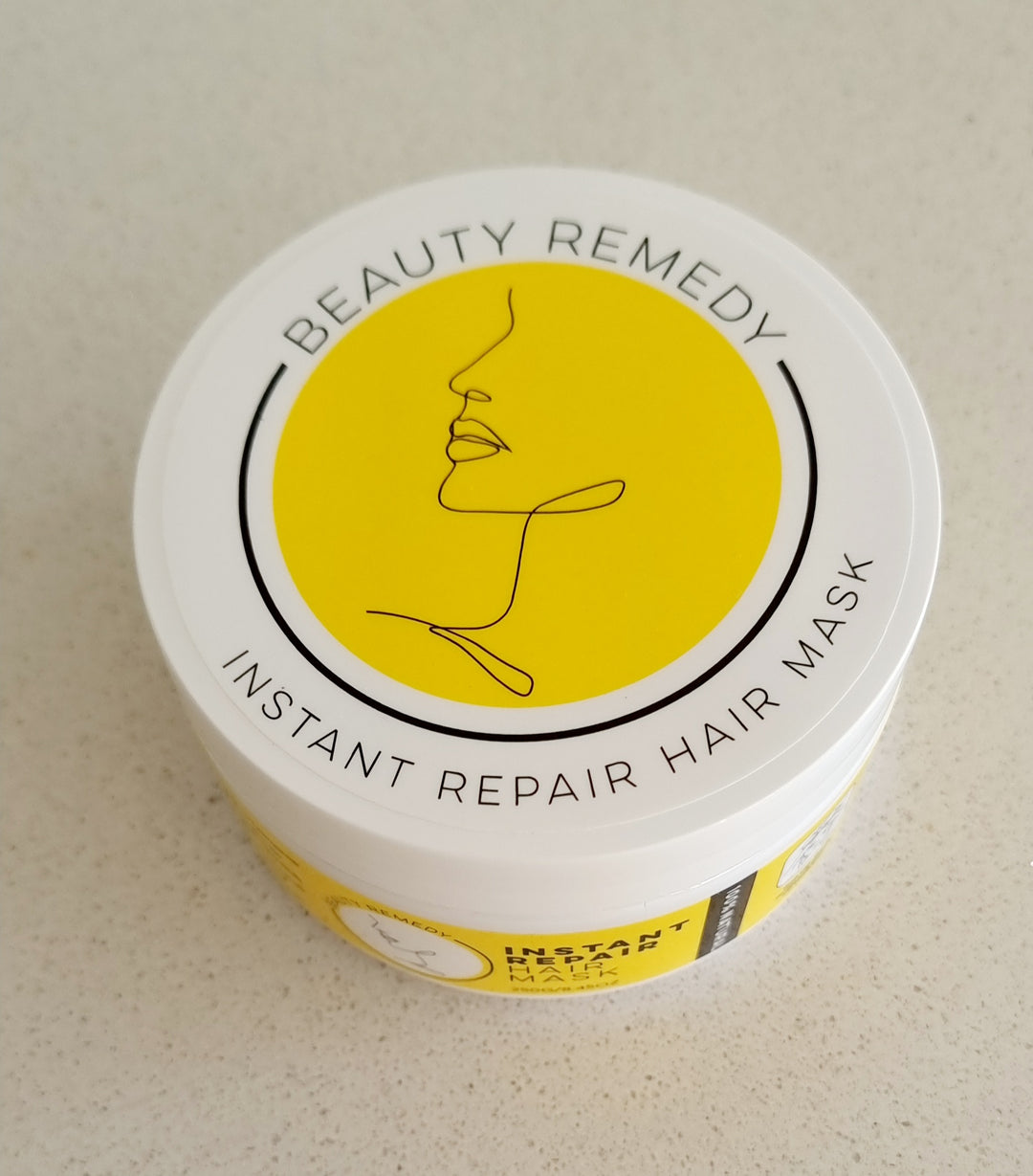 Beauty Remedy - Instant Repair Hair Mask
Introducing our 'Beauty Remedy - Instant Repair Hair Mask'. Bring Your Hair Back to Life!
Say hello to our brand-new Instant Repair Hair Mask, specially created to rescue and revive your hair using the power of nature. This amazing hair treatment is made entirely from natural ingredients, so you can feel good about what you're putting on your hair.
Our Instant Repair Hair Mask is like a luxurious spa treatment for your hair. It's designed to deeply nourish and repair even the most damaged strands, giving you hair that looks and feels incredible.
Here's why you'll love our Instant Repair Hair Mask:
1. Fix and Restore: Our mask is packed with special ingredients that work together to repair and restore your hair. It's like hitting the reset button for your locks, helping to undo damage and bring back their natural beauty.
2. Deep Hydration: Dry, thirsty hair? No problem! Our mask gives your hair a big drink of moisture, leaving it soft, smooth, and hydrated. It's like giving your hair a tall glass of water.
3. Stronger and Healthier: Weak, brittle hair? Our mask is here to save the day! It strengthens your hair from the inside out, making it more resilient and less prone to breakage. You'll notice your hair feeling stronger and healthier in no time.
4. Protection from the Elements: Our mask not only repairs and hydrates, but it also provides a shield against everyday damage. It forms a protective barrier around your hair, helping to defend against things like heat styling and environmental stressors.
5. Easy to Use: Our Instant Repair Hair Mask is designed to be user-friendly. Simply apply it to clean, damp hair, leave it on for a few minutes, and rinse it out. It fits seamlessly into your haircare routine, making it convenient and hassle-free.
6. Visible Results: Get ready to be amazed by the transformation of your hair. Our mask delivers visible results from the very first use, leaving your hair softer, smoother, shinier, healthier and more manageable. You'll notice a healthy shine and a renewed bounce to your locks.
7. Natural Goodness: We believe in the power of nature. That's why our Instant Repair Hair Mask is made with 100% natural ingredients. No harsh chemicals or artificial additives. Just pure, nourishing goodness for your hair.
8. Suitable for All Hair Types: Whether you have dry, damaged, frizzy, or color-treated hair, our Instant Repair Hair Mask is suitable for all hair types. It works its magic on every strand, bringing out the best in your hair.
9. Suitable for all ages and for both men and women: Because our Hair Mask is made with 100% Natural Ingredients, they contain no harsh chemicals or toxins, making it safe to use for everyone. 
10. Smells AMAZING! With a beautiful natural fresh lime scent our Hair Mask will leave your hair smelling super clean, fresh, and zesty like a breath of fresh air. 
Give your hair the love and care it deserves with our Instant Repair Hair Mask. Embrace the natural way to restore and revitalize your hair. Say hello to beautiful, healthy hair that turns heads wherever you go.
Ingredients:
Aloe Barbadensis (Aloe Vera) Leaf Juice, Glycerin (from Soybean & Rapseed), Behentrimonium Chloride (from Canola Oil) , Cetearyl Alcohol (from EcoCert Palm), Caprylic/Capric Triglyceride (from Coconut Oil), Butyrospermum Parkii (Shea) Butter, Calendula Officinalis Flower Extract (Calendula), Crambe Abyssinica Seed Oil (Crambe Abyssincia Flower), Cucurbita Pepo (Pumpkin) Seed Oil, Argania Spinosa (Argan) Kernel Oil,  Persea Gratissima (Avocado) Oil, Hydrolyzed Jojoba Esters (Jojoba), Jojoba Esters, Aqua (Jojoba),  Hydrolyzed Rice Protein (from Rice), Hylocereus Undatus (Dragon) Fruit Extract, Guar Hydroxypropyltrimonium Chloride (from Guar Gum), Citrus Limon Peel Oil (Lemon), Citrus Reticulata Peel Oil (Tangerine), Jasminum Sambac Flower Extract (Jasmine Flower), Sodium Phytate (from Sugarcane), Tocopherol (Vitamin E), Benzyl Alcohol (from Fruits and Tea) Salicylic Acid (from Willow Trees), Sorbic Acid (from Woman Tree Berries), Citric Acid (from Citrus Fruits).